DV4 Soft&FW
---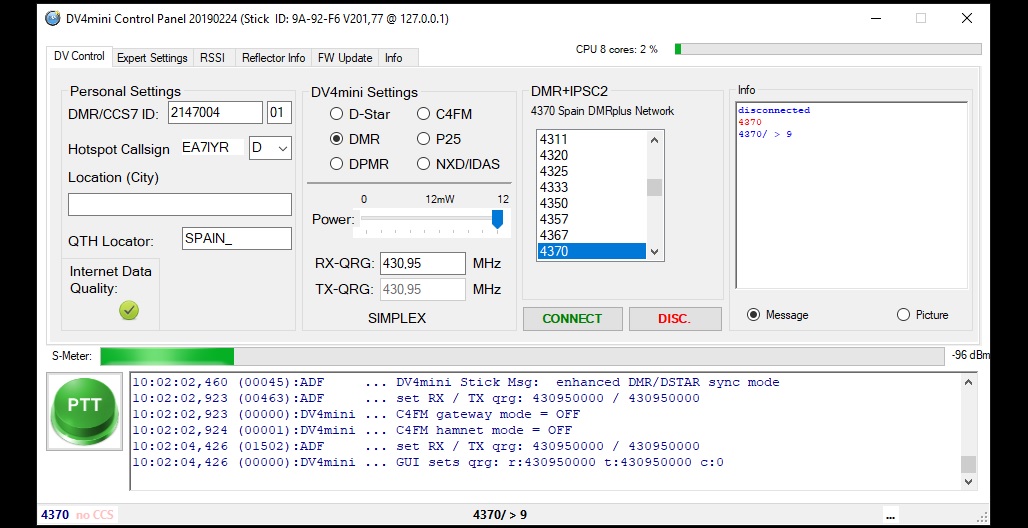 ---
DV4mini now as MMDVM
New DV4mini version with MMDVM (DMR) protocol
New features:
Layout adapted to the possibilities of MMDVM (DMR)
20-digit indication of the location
QTH-Locator up to 10 digits
DMR-ID usable with extensions (01-99)
Supports Embedded Data (Talker-Alias + GPS)
Supports PrivateCall
All TS1 and TS2 Talkgroups are supported
For DMR+ IPSC2 registrations, static Talkgroups are available up to 5x for TS1 and 5x for TS2 in expert mode.
Brandmeister LOGIN with password and authentication
Supports Brandmeister "Hotspot-Security"
For Brandmeister settings of static Talkgroups maintained in the BM SelfCare area
ECHO is now activated with the Talkgroup TG9990 as GroupCall
(An update of the DV4mini firmware is not needed)
New control panel for windows (beta)
Nuevas características:
Diseño adaptado a las posibilidades de MMDVM (DMR).
Indicación de 20 dígitos de la ubicación.
QTH-Locator hasta 10 dígitos
DMR-ID utilizable con extensiones (01-99)
Admite datos incrustados (Talker-Alias + GPS)
Todos los grupos de conversación TS1 y TS2 son compatibles
Para los registros DMR + IPSC2, los grupos de conversación estáticos están disponibles hasta 5x para TS1 y 5x para TS2 en modo experto.
Brandmeister INICIAR SESIÓN con contraseña y autenticación
Compatible con Brandmeister "Hotspot-Security"
Para la configuración de Brandmeister de grupos de conversación estáticos mantenidos en el área de BM SelfCare
ECHO ahora está activado con el grupo de conversación TG9990 como GroupCall
(No es necesaria una actualización del firmware DV4mini)
Descargar la versión basada en Windows: DV4MINI_2019_02_24
Download Last Version:
————————————————————————————
Visual C++ Redistributable for Visual Studio 2015
https://www.microsoft.com/en-us/download/details.aspx?id=48145
————————————————————————————————-

DV4mini Driver click
———————————————————————————
---
Latest_firmware:
Last Version 1.77

The latest BETA Firmware 1.76. Please download only if you like to test and experiment:
List of xreflectors ( xref.ip )
List_firmware old
DV4mini_164.fw2 30-Apr-2016 22:20 31K
---
RASPBERRY PI IMG:
NEW DV4Mini Raspberry pi img:
BETA: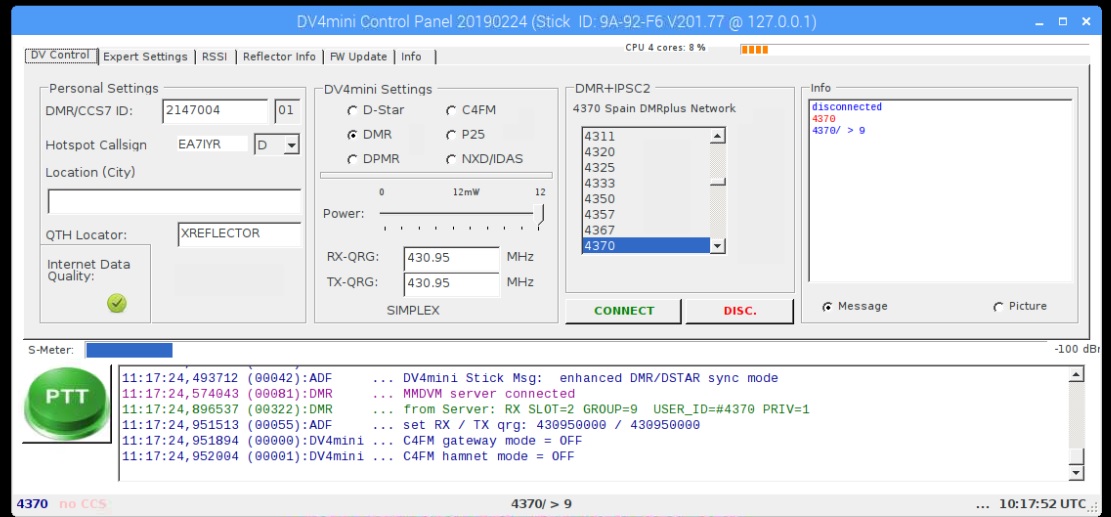 —————————————————————————–
RASPBERRY PI IMG TFT
BY LATINOS >> http://latinovoip.net/dv4mini-tft-raspberry-pi23-image/
————————————————————————————-

DV4home instructions and updates:
DV4home manual can be found here
Instructions for updates are here

Latest firmware for DV4home (version 070A) is here
Documents:
User manual (07-23-2016) for DV4mini for all versions can be downloaded here
Presentation about CCS7, CPS7, reflector systems can be found here
Interface Description for DV4mini can be downloaded here
Manual De Usuario De DV4Mini En Español(Nueva revision)
Dv4.es has express authorization
For the software and firmware links of:
©2017 Wireless Holdings, LLC, All Rights Reserved